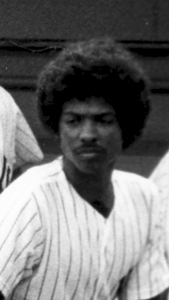 When I first started with the Yankees as a batboy in 1973 Ron Blomberg used to tease me about my Afro hairdo. He and Bobby Murcer used to say that I was the Oscar Gamble of batboys.
George Steinbrenner used to get on my case about getting a haircut and I always said that I would but I never did. One day the Yankees were playing the Cleveland Indians and Oscar Gamble hit a double. The next hitter was Walt'No Neck 'Williams who got a base hit to centerfield. Bobby Murcer fielded the ball and threw a bullet to catcher Thurman Munson who collided and in one motion tagged Oscar Gamble out. The first thing that the fans noticed was that with all the dust coming up all you could see was Oscars giant Afro. I think the fans appreciated his hair raising Afro as much as they loved Bobby Murcer's great throw.
In the spring of 1976, Gamble joined the Yankees along with Mickey Rivers, Dock Ellis and Willie Randolph. The First thing that the players on the team noticed was how quickly Gamble cut his hair. A lot of the guys didn't think he would cut it because his hair was his trade mark, also like Samson in the Bible, that's where he got his home run power from. Also you know how superstitious baseball players are. Not Oscar though. He wanted to be a Yankee at all costs and that first year he would Always say, " I'm just happy to be here."
Mr Steinbrenner really got to know the real Oscar Gamble for the first time at a team function that spring. The Boss had a lot of his old college buddies there along with the head of U.S.Steel and other major corporations. As the Boss was talking at the podium about the importance of that season for New York, Oscar screamed out that it was also important for the new Mercedes that he wanted to buy. The Boss and all the players broke out in crazy laughter. Oscar also said, "Excuse me Mr Steinbrenner, I heard that Lou Piniella is a neighbor of yours in Tampa and in the winter in order to make extra income he is your landscaper." "Well I can detail your cars if you'd like." That night, Oscar was as funny as Richard Pryor could ever be and the Boss loved it.
On the drive back to the hotel I will never forget Mr Steinbrenner say that Gamble would be great for the clubhouse because his humor would keep everyone loose.
In the Spring of 1977, the Boss knew that he had to upgrade the short stop position and the thought of getting Bucky Dent was something that he could not pass up on. The only way this deal was going to get done was Oscar Gamble. As much as the Boss did not want to trade Gamble, the betterment of the team always came first, however I always knew that the first chance that the Boss got to get Gamble back, he would jump at it. That opportunity came in July of 1979. He got Oscar back from the Texas Rangers for one of his all time favorite players Mickey Rivers. The reason for this trade is too personal and complex to explain but when you find out why, you would understand the true human and loving side of George Steinbrenner through both of these players.
When Thurman Munson died, Oscar and Rivers held hands like the brothers that they were and along with the Boss and the rest of the team, cried uncontrollably and unashamed. Thurman loved and respected Oscar so much that it made you proud. Oscar loved playing cards with Thurman and picked up many tricks that Thurman had learned from Gene Michael. In those days, we only had one bus on the road so we were always together. The players were closer then they are today. When we got on the bus after games everyone had their set seats.
That meant that the show was about to begin. Oscar usually would be in rare form so like Don Rickles, Oscar was gonna verbally get you. The funny thing was that you wanted to be zapped by Oscar. I will never forget that when we got Oscar back he had already signed a big free agent contract and would dress in all Gucci clothes-shoes hat, and he would carry a Gucci attaché case. Our bullpen catcher Dom Scala, a jokester in his own right and popular guy with the players, started to call him "Gucci Gamble" and the nick name stuck.
In 1989, I was the General manager of the St Lucie Legends,the now defunct Senior Baseball League in Florida. My Manager was Graig Nettles and among the many ex Yankees on the team, I had Oscar Gamble. By the time the season started, both of Oscar's knees were shot. He could still put on a show in batting practice but come game time he would hit a line drive to the out field and because his knees would not let him get out of the batters box, he would get thrown out at first. I tried to keep Oscar on as a coach for as long as I could but my owner Joe Sprung finally ordered me to release him and that if I wanted to keep my job not to sign anymore friends.
I think what bothered me the most was that Oscar felt more badly for me than I for him. He was one of my heroes and he knew that. He also felt that he let me down but in reality I let him down because I knew that he wasn't one hundred percent. My trainer, Steve Davis, told me that he wasn't ready but I let Oscar charm me with one of his classic lines, "GAMBLE WITH GAMBLE!" It was a line that he used with the Yankees often before hitting big home runs. So, I hoped that history would repeat itself. In Oscars case, this time it didn't.
As years passed, I would see Oscar at old timers day and Yankees fantasy camp and was always so happy to see him, Rivers, Bucky, Chambliss and all the boys from that era.
One time when I walked into the locker room at a fantasy camp, the great Paul Blair saw me and screamed out,"Oscar Ray is here, is he going to release you again.?" Oscar screamed out, " Oh no not again!" Everyone laughed and when I explained to the players that Oscar couldn't get out of the batters box , Oscar said, "I didn't get out of the box because I thought you wanted a photo op for the year book cover." That was Oscar.
This morning I received a call from Doc Gooden and he told me that Oscar had died.
Oscar had been suffering from mouth cancer, even though he never chewed tobacco and didn't smoke. He suffered from this painful decease for several years and he fought like a champion because he loved life so much. The last time we talked he said, "When you write about me, don't write about the baseball player, write about the guy that loved being with his teammates and family."
In 1995, when I spent that summer helping Doc Gooden with his rehabilitation, he used to tell me about how close the 1986 Mets were and I would argue with him that there is no remote way that the Mets that year were closer then the Yankees of the 70s. When Gooden started to attend Yankees Fantasy camp he got to know Oscar and Bucky and so many others and he saw the love. He will never admit that the Yankees of the 70s were closer because he is loyal to the Mets but he did admit that he gained big respect for them.
Today, I spoke to Bucky Dent, Ron Blomberg, Chris Chambliss, Willie Randolph Dom Scala Mickey Rivers and many others. To say that they cried for one of their brothers and that the missing process has begun is an understatement. The last time that I heard Mickey Rivers cry like that was on August 3rd 1979 when Bobby Murcer and George Steinbrenner were painfully and tearfully explaining to the team how our beloved captain, Thurman Munson had died.
Oscar Gamble was a beloved roomie to Chris Chambliss in Cleveland. Bucky Dent considered the Big O a true brother as did Blomberg. While sick, Blomberg always checked on Oscar. Willie Randolph probably played with Oscar the longest of all the players and like me and Bucky, have lost loved ones within the last couple of years but we still have a lot of tears left for our dear friend and brother Oscar Gamble.
When it came to Oscar Gamble, "Mr October" Reggie Jackson said it best.
"Oscar was a sweet, decent man without a single ounce of malice in his heart. He was a cool breeze out of Alabama."
Oscar wanted people to know that he was a good person that loved his family and friends very much and loved and appreciated the fans of this great game. To the end I can honestly say that Oscar was always grateful to the Yankees because he was always able to put on the pinstripes at old timers day and fantasy camp.
Rest In Peace my friend.